Where Are YOU From?
Guestbook
Me at age 1 yr and my Dad Clifford Sylvester Winnett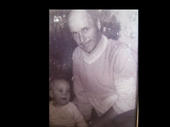 Take a minute an sign in!!!
Name: Clifford Sylvester Winnett - 8
Birth Date: 29 Mar 1938
Birth Place: Cumberland Co. ILL
Baptism Place: Jim Crable's pool Hutton ILL.
Death Date: 18 Nov 1984
Death Place: Carle Clinic in Urbana ILL.
Burial Place: Salisbury Cemetery Hutton ILL.
Occupation: worked on Construction for Sauble & Huckaba
Religion: member of the Salisbury Church Hutton ILL.
Father: Berlin George Winnett - 1 (1908-1989)
Mother: Alice Day - 2 (1911-1984)
Spouse: Wanda Darlene Kirkley - 58
Divorced:
Children: Billy Eugene - 59
Sherry Christine - 60
Spouse: Sandra Lee Henry - 72
Marriage Date: 21 Dec 1968
Children: Jeffrey Shane - 101
Tracy Maxine - 132
Shawna Rae - 169
Notes:
Dad had a couple of nicnames one was "Hickory Whistle Bill" because he used to to make whistles out of hickory sticks.and the other was "Clutch"being left handed an in those days the gear shift was on the steering column Dad wasnt real smooth when he shifted gears an would burn out the clutches an tear up transmissions,so he got real good at rebuilding transmissions.
Uncle Jim told a story that Dad an Dick Ashmore one time was out in the barn lot where the cows were him an Dick had a bow an arrow an Dad shot one of the cows right in the rectum so Dad an dick spent about 45mins trying to catch that cow an pull the arrow out.
Dad was baptised by Ray Finney who was the Reverend of Salisbury Church ,Jim's pool was used because the church didnt have a baptismal at this time.
Last Modified: 21 Jun 2006